Piping Workshop
Piping Workshop Overview:
---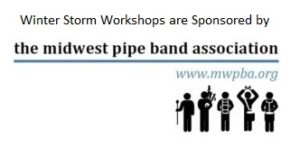 Click Here for Downloadable Matrix of Specifics: Faculty-Curriculum-Times-Locations
Amateur 2/4 March Selections what judges look for
Expression for MSR, HJ, 6/8s
Playing pipes with other instruments
Bellows pipe instruction
Instruction for beginning pipers on chanter and switching to pipes
Reed Manipulation, Pipe Setup and Tuning
Pipe Major Workshop (managing your band, creating a winning medley)
Arts Administration discussion
Memorizing music
Beginning Piobaireachd
Tune Composition
Amateur Grade Solo Tune Selection
Ensemble Class
Piobaireachd Master Class
GENERAL WORKSHOP OVERVIEW:
---
Six workshop master class sessions over two days, January 14 & 15, 2023
Free admission to the Saturday night Pipes & Drums Concert, January 14 , 2023
Free workshop T-shirt
Free admission to Winter Steam, the after-concert party. Souvenir pint glass is $30- enjoy unlimited refills. All are welcome, but must be 21 to consume alcohol. No exceptions.
Vendor booths and Manufacturer Representatives on-site. Talk with the experts. Check out the latest piping and drumming gear. Special Offers on-site.
Special rates at the Winter Storm hotels
Early registration is $220 if paid by December 31.
Online or onsite Registration paid after December 31 is $240.
The Winter Storm Workshop, Competitions, Concert, and Winter Steam Party will take place on the Winter Storm Campus.
See Event Schedule for Maps, Floor Plans, Times, Locations, etc.
What is more, the Winter Storm Competitions, to be held on Thursday and Friday have tremendous appeal to enthusiasts who enjoy the excitement of world-class piping and drumming contests, and are an excellent learning opportunity for students. The acclaimed Winter Storm Amateur and Professional piping and drumming contests attract many of the finest players in North America and the World. The contests will be held at the Winter Storm Hotel Complex. Spectator Tickets may be purchased on-line or at the door.
A curriculum matrix with classroom topics, times, locations, and instructor assignments will be available upon arrival, along with a packet containing a free Winter Storm Workshop T-shirt and name badge.
Registration Form
---